Travel and hotels
Welcome to Växjö
Växjö is situated in the heart of southern Sweden, 250 km from Gothenburg, 200 km from Malmö and 450 km from Stockholm. Business is blooming in Växjö, the university is expanding, and the range of cultural events on offer – theatre, musicals and concerts – is extensive. Visitors come from all over the world to see the area's craftsmen, who are famed for their glassblowing and furniture making. Nature is all around, with glittering seascapes and magical forests – and there are plenty of golf courses in the area. Växjö is a great place to stay, even if it is only for a short while.
A tip for your trip to Växjö in Småland
Instead of flying via Stockholm it is often easier to fly to Kastrup Airport in Copenhagen. From Kastrup there is a direct train to Växjö with a travelling time of just over two hours. The direct train departs once every two hours.
It is then a short walk to Elite Stadshotellet in Växjö.
Read more about travel to and in Växjö: https://vaxjoco.se/en/travel
Hotel and seminary lounge
Located in the centre of Växjö, Elite Stadshotellet is a splendid example of Scandinavian architecture, with beautifully decorated, light and comfortable rooms. The reception staff speak English, German and, of course, Swedish.
In case of many seminar attendees, you might be offered accomodation in one of our nearby hotels with equally high level of standards.
The railway station is within easy walking distance. The airport is 8 km away. You can find the Hotel's website at www.elite.se/en/hotell/vaxjo/stadshotellet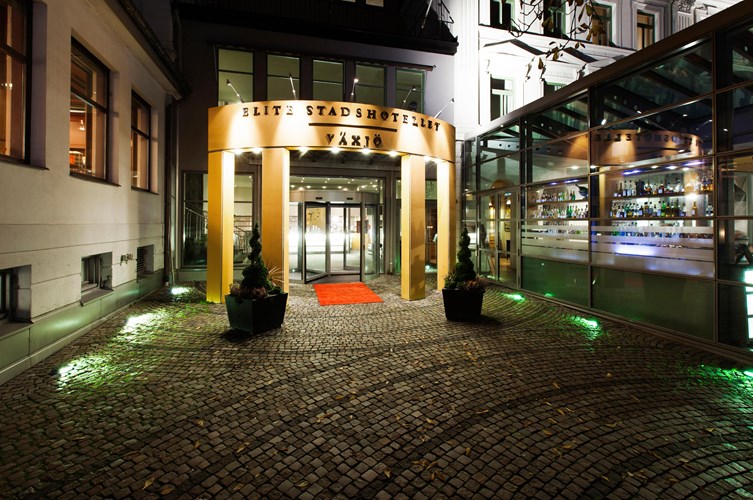 Location
Weather
Want to know what the weather is like right now? Lets find out!.
About Sweden
Sweden is often described as one of the world's most modern and advanced countries. Whether it's technology, behavior and lifestyles, urban trends, social reform or fashion and design, this little country has an extraordinary ability to position itself at the forefront.
Some say that Sweden has all the advantages associated with modern society, but few of its common problems. It's a country where travel is easy, safe and convenient.
Don't forget the time difference. Swedish time is GMT +1. Local time right now – 18:22:00.
You can find a broad range of activities and tourist information at guide for Växjö and make sure you'll have a look at Visit Sweden's inspiring web pages too.