Masakatsu Inagaki, Senior Researcher at Seismic Test and Research Group, J NES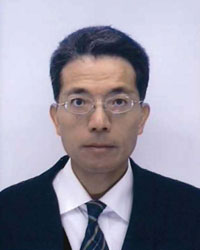 Masakatsu Inagaki was probably the most exotic lecturer at the 2010 KIKA NCS seminar. He flew all the way from Japan to Sweden to give the audience a view of the tests and research performed at the Seismic Safety Division of JNES (Japan Nuclear Safety Organisation).
Masakatsu Inagaki is a mechanical engineer from the University of Tokyo. He is at present resident in Yokohama and working at JNES as Senior Researcher since seven years. Masakatsu joined JNES as the new nuclear safety organisation was established in 2003. He has also spent two years in San Francisco and his professional career started at the well known Japanese company Hitachi.
"At JNES I am a member of the Seismic Test and Research Group at the Seismic Safety Division. We perform tests of safety devices designed by the manufacturers of equipment for nuclear power plants and other nuclear installations. Most of my work concerns preparing of documents in order to make tests and to evaluate the results. I also have a lot of discussions with the engineers, both theoretical and practical."
Masakatsu says with a smile that the management loves documents.

"To get approval for your equipment you have to present a full covering documentation including test results. In Japan we must pay attention to seismic events everywhere in the country. Every day we can measure some form of seismic activities, reported on TV."
In Japan there are 53 nuclear power plants, but so far they have been preserved from serious damages.
"Gantry cranes outside the plants have been damaged, but the first case within a nuclear power plant was reported on July 16th 2007 in the Kashiwazaki-Kariwa NPP. During the inspection, structural damage was found at an overhead crane driving shaft coupling, which was considered a result of a high vertical seismic load."
Masakatsu says that there is a risk for cranes carrying heavy loads.
"In Japan we have a sensor system, which controls an automatic emergency stop. I find it interesting that the regulations of other countries at an increasing degree include seismic safety details. We are pleased to share our experience and I am happy to be here at the KIKA seminar to meet colleagues and other crane experts." Sweden was a very exclusive experience to Masakatsu, who has been to Europe once before, visiting Moscow and Hungary. He was impressed by the silence and the beautiful autumn landscape.
"I did not know anything about Sweden except for the music of ABBA and other Swedish artists. I saw Sweden on the map and I noticed that there is no direct flight connection from Japan and especially not to Växjö. But, the long trip gave me an opportunity to see more of Scandinavia and I like the nature here."