Dr H Rainer Bath, KTA, Germany and Norbert Schilling,
head of Project-Department & KTA-support, NKM Noell Special Cranes, Germany
German Philosophy – KTA Standards set the Direction
The German KTA standards (Kerntechnischer Ausschuss) have been a pattern for many standards and regulations in other countries, somewhat similar to the role of the German automotive industry. But what will be the consequences for KTA standards after the planned closedown of nuclear power plants in Germany? Norbert Schilling of NKM Noell Special Cranes GmbH is one of the specialists of the KTA standards. Here he describes the philosophy of KTA 3902 and 3903, followed by a chat between Schilling and Dr H Rainer Bath of KTA.
When Safety Really Matters
All lifting and handling operations contain a certain risk. Safety in handling of loads is essential and does not concern only the heavy ones.
"The nuclear business is no exception; we handle both ordinary and critical loads, for example lifting and handling of casks, refuelling and waste. Dropping or losing control of load is simply unacceptable. The law is general and contains only safety fundamentals, not practical advice. Therefore, we need guidelines for lifting equipment in general, but also standards which contain safety criteria connected to the special features of nuclear plants. There are only a few nuclear standards available associated with hoisting appliances. KTA offers a number of applicable standards, from KTA 3902 about design of lifting equipment in nuclear power plants and KTA 3903 about inspection, testing and operation to KTA 1401 about general requirements for quality assurance. Other Guidelines very often do not define the procedure, only the goal. The KTA standards howeverare like a cooking book that describes all individual steps in detail, all but specify fundamental safety-related requirements", says Norbert Schilling from NKM Noell Special Cranes, a German lifting equipment manufacturer, part of the French group REEL International, with 2100 employees worldwide and a turnover of 450 MEUR.
"The KTA standards have a number of clearly defined tasks. One is to specify the safety related requirements, another to attain the protection goals for damage related to construction and operation of a nuclear facility. The defined danger potential should be considered in the design of lifting equipment, either based on additional requirements or on increased requirements. This procedure should lead to designing adequate protection against failure or breakdown, in particular for nuclear applications, where failure might lead to significant radiation exposure."
"Although the Machine Directive 2006/42 EC actually excludes machinery specially designed or put into service for nuclear purposes with the risk of emission of radioactivity, any lifting equipment must, according to the applicable KTA standard, comply with all requirements as being laid down with the directive and related, harmonized European standards."
Probabilistic and Deterministic Approach
The KTA philosophy also concerns the classification of lifting equipment andin any case – both "additional" and "increased" requirements – specifies more stringent requirements compared to the general provisions. The specific requirements may comprise design calculations and certain procedures and safety factors to be applied.
"Also, electronics, instrumentation and control systems are included."
There are two different approaches to the KTA Safety classification. The probabilistic approach is based on a comprehensive analysis of incidents and the deterministic approach is based on application of the highest safety level, which should exclude collapse or breakdown of the equipment with almost total certainty.
"Analysis of incidents with uncontrolled dropping of load shows that cranes built according to KTA 3902, section 4.3. have a considerably lower risk of failure than conventional cranes."
"For the deterministic approach drop down of load during nuclear plant operation, maintenance or fuel handling shall not be presumed and the remaining uncertainty can be assigned to residual risk."
Single Failure Proof System
One of the cornerstones in the KTA philosophy is the concept 'Single-Failure-Proof'.
"This means that any failure of a single component will not affect the operation, for example the capability to stop and hold loads will remain unchanged. The components of the hoist comprise alternative or redundant mechanisms, which provide support to the load in any possible case. This also includes fail-safe control systems. Operational and safety-related control systems are independent."
Another detail in the standard is that it specifies the conditions for the use of series-production parts such as brakes and couplings for hoisting machinery. The reason is that high functionality and long experience can be combined. KTA 3903 offers a process for use of series-production parts for the load path, including the procedure for qualification and quality assurance.
"The current activities of KTA include continuous work on the revision of the nuclear safety standards for lifting equipment, including adjustment of the safety related requirements to be updated to the harmonized European standards, in particular implementing the EN 13001 standards series. But, remember that the harmonized standards currently released still do not cover all components of the hoisting appliances."
Harmonized standards are available and up to date for design of steel structures, ropes, wheels, bearings, hooks and hydraulic cylinders.
"There is no conflict of design philosophy between the harmonized (EN) and not harmonized (DIN) standards for the remaining components of the hoist."
In the future there will be two possible methods for calculating static and fatigue, the existing allowable stress method with overall safety factor and the new limit state method with partial safety factors.
"A mix of rules from for example EN and DIN is strictly forbidden, e.g. transfer of dynamic factors from EN to DIN or vice versa."
The latest drafts of revisions for KTA 3902, KTA 3903 and KTA 3905 have been prepared during 2019 and are expected to be published for comments and examination within a near future.
And one more question; What will be the consequences for KTA standards after the closedown off Germany's nuclear power plants?
"No changes. The revision on base of the European harmonised standards will make it possible to use these nuclear safety standards in both new projects and when renovating or refurbishing existing plants, for example in Sweden, Finland, France, the Netherlands, UK etc."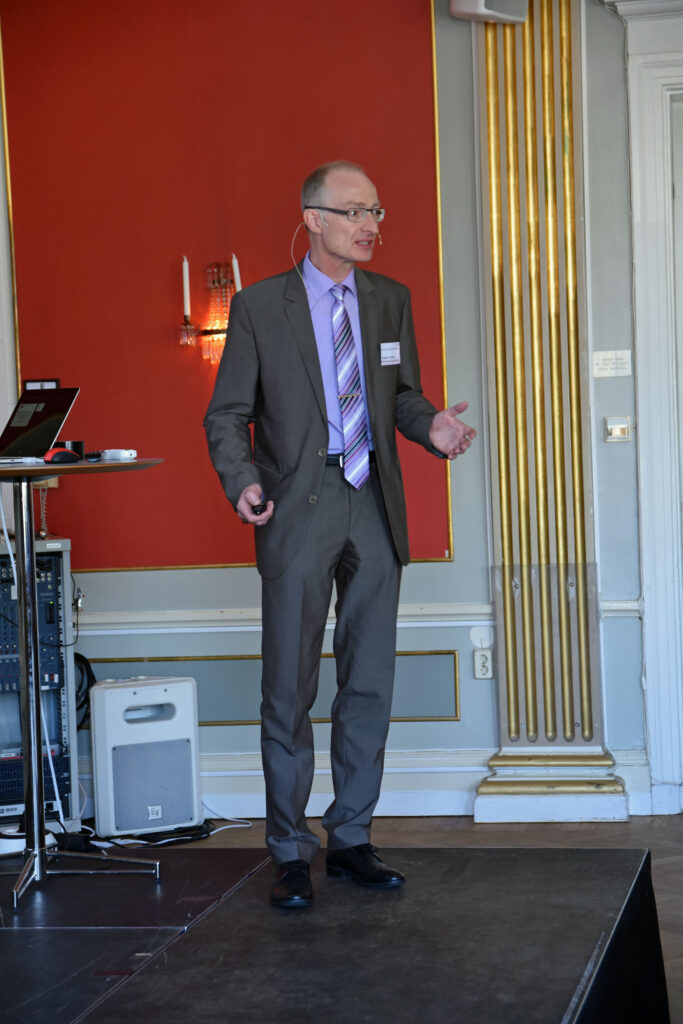 Two German Experts on KTA and the Future
The KIKA seminar in Växjö offered a unique opportunity to meet and to chat about safety and technical issues regarding cranes and lifting equipment in nuclear plants. Schilling and Dr Bath of KTA met to talk about the future of the standard system.
"KTA will certainly survive in the future for lifting equipment. Regardless of a coming shutdown of the German NPP's, the cranes and the hoists will be used during decommission and handling of fuel in facilities that fall within the scope of the KTA standards. The equipment has to be reviewed and updated in all facilities, where fuel is handled."
"KTA will continue to do daily business as usual. The safety standards will be a good basis for regulatory purposes, and we will participate in the work performed in committees and work groups for lifting equipment. Our deep assessment in the EN standard is obvious – we brought in our experience of design and we have been able to make a comparison between them, in particular in the safety level, where we have looked thoroughly into all aspects."
"There are no major conflicts between the standards but preparing a new KTA safety standard will be a problem for old German plants based on DIN 15018 – however they could continue to applythe proven dimensioning method according to DIN 15018."
"For every new edition of KTA Safety Standards the NPP will have to verify its safety level, in order to comply with the updated requirements. So far, we have not found any mistakes, the new revision of KTA 3902 and KTA 3903 will mainly allow the use of DIN EN 13001 for steel structural members, put more precisely some requirements for electrical equipment as a result of operational experience and adapt all requirements to the current state of standards."
"Probability of failure is a really complex system, but the target is to improve general safety and add redundancy. In the new KTA standard versions mechanical engineering according to the new harmonized European EN standards is included – an important step forward. The way is paved, so that these KTA-nuclear safety standards may play a bigger role on the European scale."