Björn Brickstad, PhD, Analyst, Special Strength of
Materials and Erik Strindö, analyst and specialist on structural integrity and event analysis, SSM, Swedish
Rediation Safety Authority
Lifting Devices in Nuclear Facilities:
Sweden Finally Introduces Detailed New Regulations
There has been one minor crack in the solid wall of safety regulations in the Swedish nuclear industry, as the machine directive excludes machinery specially designed or put into service at a site for nuclear purposes, which in the event of failure may result in an emission of radioactivity. Lifting devices have definitely fallen through the cracks. But now, after decades of discussions and preparations, the first detailed regulations for lifting safety in Sweden's nuclear facilities are very close to launch.
"The overall objective with lifting regulations in a nuclear environment is to minimise the risk of radioactive emissions and to prevent any loss of safety functions. As Sweden now is in the phase of introducing a set of regulations specified for lifting devices in the nuclear industry, we have strived to reach a fair balance between safety requirements and the costs to implement new regulations", says PhD Björn Brickstad, former safety expert at SSM, the Swedish Radiation Safety Authority.
The new regulations are expected to be effective during 2021 as a part of a large update of the regulatory framework.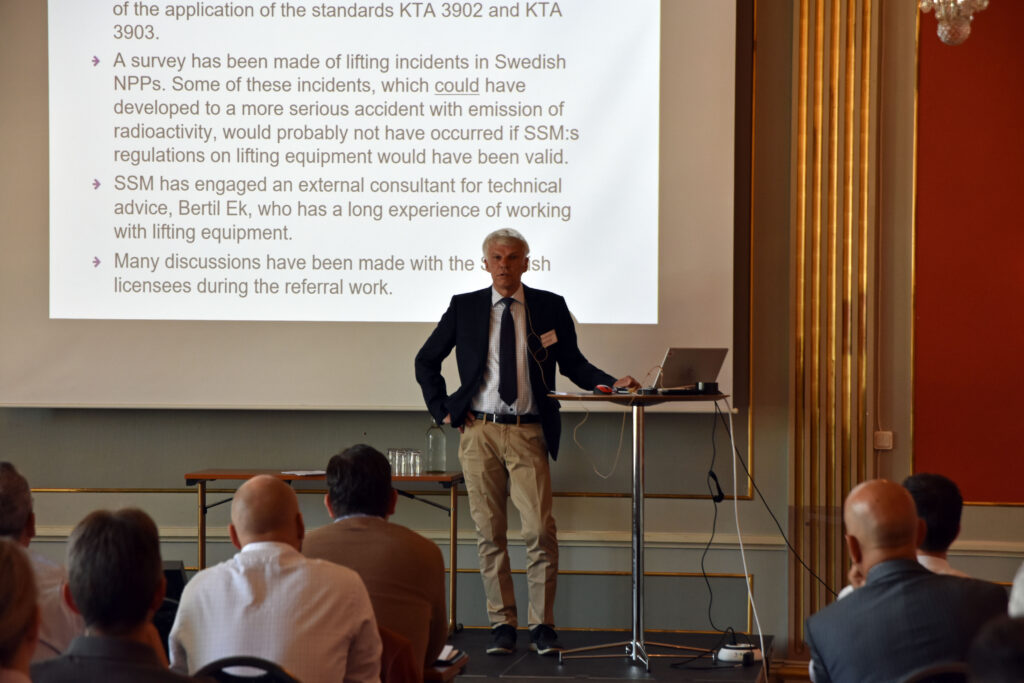 Extensive Preparations
The preparatory work has been extensive, both in time and in scope. Björn Brickstad mentions that two reports were used as the basic platform for the new regulations, an external study made by Kjell Andersson in 2010 and an internal report by SSM in 2012.
"We have visited all Swedish licensees and several of the major crane manufacturers in Europe to discuss design features for modern lifting devices – this was necessary to cover both existing and future lifting equipment. Frequent contacts have also been taken with German KTA, STUK in Finland and NRC in the USA."
To further broaden the perspectives of the regulation framework SSM made a survey of lifting incidents in Swedish nuclear facilities, mainly with focus on risks of radioactive emissions.
"Many incidents would probably not have occurred with the new regulations."
A Well Working Structure
The new regulations, SSFMS-L, are designed for use in the everyday life at nuclear sites. The regulatory text contains mandatory requirements, the text in the section "General Advice" describes how the regulations can or should be interpreted. The guidance text presents background and motives for the actual regulations.
"The aim has been to create a well working structure, close connected to the practical situation at the sites."
Paragraph 1, "Application", contains a practical definition that the lifting classes L1, L2, L3 are important for safety and therefore should be covered by the regulations. A closer definition of the lifting classes is given in paragraph 3, "Classification".
SSFMS-L contains passages about temporary lifting equipment, third party inspections, risk analysis, certificate of conformity, electrical installations and specifications about which methodology should be used for certain generations of cranes and other lifting devices.
"We refer to the German standards KTA 3902 and 3903 since they are designed for lifting equipment in nuclear sites. They are also generally accepted internationally as best practice procedures and KTA 3902 (design) has been applied in some modernization projects in Sweden. A few modifications have been made, for example regarding inspection intervals and functional testing in KTA 3903."
In Appendix 1 outlines for design specifications are listed, also with respect to single failure proof properties. The probability of a load drop should be minimized in classes L1 and L2.
Competence and training of the staff has been emphasized in the new regulations and the particular risks occurring in a nuclear site have been highlighted.
The Work Will Continue
The launching date of the new regulations is still open due to additional new framework in this field. Björn Brickstad says that different paragraphs and general advices will be effective at different times.
"The reasons are that licensees will get more time to adapt to the new regulations and that formation of inspection bodies and new laboratory resources require time to be established."
After his retirement PhD Brickstad still keeps an eye on the development of the new regulations. Erik Strindö, analyst and specialist on structural integrity and event analysis, is one of the key persons carrying the work forward at SSM. Both of them agree that the intentions were that every country should design an own standard for lifting equipment at nuclear sites as the issue of radiation was left out of the general lifting equipment framework. But nothing has happened so far.
Various countries have solved the task in different ways – but, for example Finland recommends the machine directive, which SSM had no mandate to do. The old lifting standard DIN 15018 has been used in certain cases.
"We recommend KTA or any corresponding standards. As the EN standards are finalized, a complete harmonisation will take place in the future. To simplify the everyday life of the nuclear plant operators many existing cranes are covered by just a limited number of paragraphs in the new regulations."
The view of SSM is that the related costs for fulfilling the new regulations are moderate compared to the increased safety level.
"The major impact will be on the six Swedish nuclear power plants in operation after 2020 as well as the new waste storage units. The regulations will also partly concern lifting equipment used when decommissioning the plants."